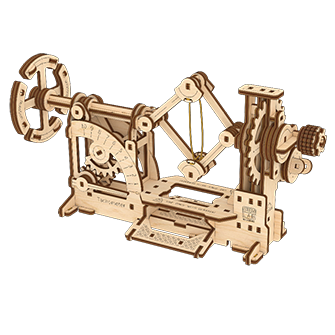 A tachometer calculates revolutions per minute (RPM). It also measures and monitors load limits, in order to decrease or increase RPM so that the engine or mechanism runs within its optimal parameters.
The tachometer is used in mechanisms where it is necessary to accurately track RPM to avoid the negative consequences of overloads. Savvy motorists use tachometers to know when to shift gears (in cars with manual transmissions) and to control the load on the engine, thereby increasing the operating life of their vehicles.
The Tachometer 3D puzzle from UGEARS' STEM Lab collection is a fully operational DIY wooden model of a tachometer, ready for you to assemble. When the handle is rotated, movement is transmitted through a reducer, increasing the RPM and displacing twin weights in the centrifugal unit. The higher the RPM, the more centrifugal force separates the weights, shifting a movable axle with flywheel. A pointer mechanism (dial) is fixed to the axle; the more the axle shifts (higher RPM), the more the dial arrow deflects, indicating higher speed rotation.